Whilst living in NYC last year, I kept picking up whiffs of Violet perfume from ladies on the subway. I was immediately smitten and began hunting for the perfect eau de Violet.
I am by no means obsessive about parfume, my two simple and trusty scents being rose oil from the
Body Shop
and the now discontinued
L'occitane
Honey Water
. These were entirely trumped when I found
Violetta di Parma
.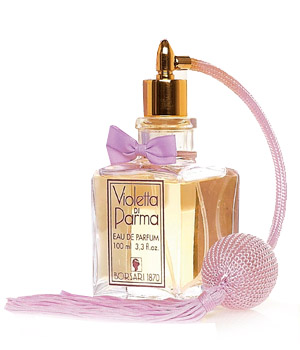 I am head over freaking heels in love forever with Violetta di Parma. Originally concocted by Italian monks under the encouragement of
Marie Louise of Austria
, Duchess of Parma, second wife to Napoleon, and famed for her love of violets.
In 1870, the secret of the monks violet extractions fell into the hands of Lodovico Borsari and Violetta di Parma has being going strong ever since...subtly strong as its scent is quite delicate.
(Sources: Parma Italy, Scented Salamander)